THE BATTLE OF THE THREE EMPERORS
November 1805 presented Napoleon with a problem he had already had to face during the previous campaigns. the grand army was scattered on a vast territory stretching from Ulm to Vienna, all through Innsbruck and Graz. The allied army, provided with more forces and cannons, was also scattered all over Europe, but it was stronger than the french army everywhere. The only way to avoid many local defeats was to push the enemy to face a decisive battle. Even though the forces ratio were reasonably unfavourable. therefore, after occupying the town of Austerlitz and the rise of Pratzen nearby, Napoleon set his trap: he intended to push the enemies to attack immediately, before the arrival of other reinforcements, while the french reserves would reach the emperor, thus reducing the numerical advantage of the Austro-Russians.
Detailed info from the funtastic website:
http://zargosl.free.fr/austerlitz-UK.html
OPENING THE BOX
The box contains the rules, the map, 2 dice, the counters, 1 calendar and one combat table.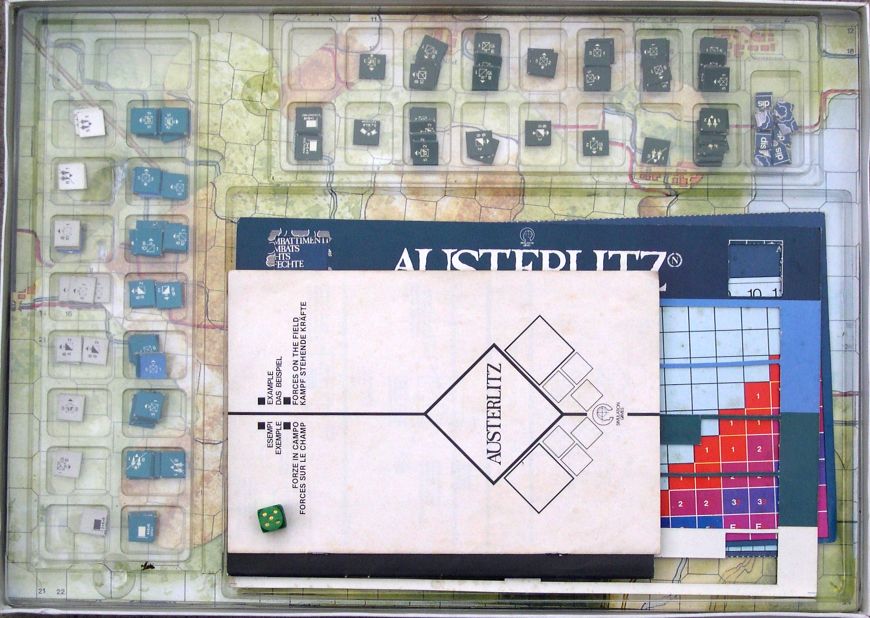 THE MAP
This is a three-didimensional map: some smaller map parts have to be put (or glued) above the main map. The map is divided by a "small / big square" grid. Each square represents 300 meters of terrain.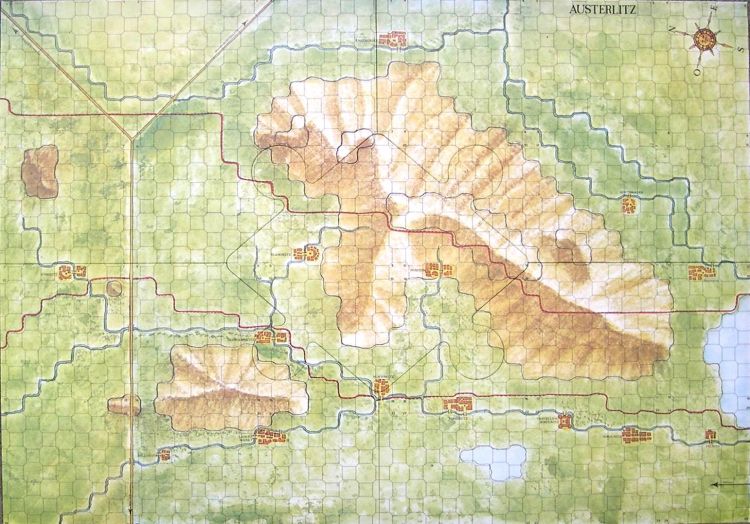 THE COUNTERS
The game contains 70 French counters, 22 Austrian counters, 60 Russian counters and 18 little smoke counters for artillery fire. The counters are double sided. The second face represents the demoralized unit.
THE RULES
The rulebook contains 34 pages in four languages (Italian, English, German, French).
The game is finished after 18 turns (meaning 9 hours). The victory is achieved by killing the biggest amount of enemy counters. Each turn is divided into 2 parts: one Austro-Russian and one French. Each part is divided into 3 phases: Artillery, movement and combat. During the first turns, the cavalry and artillery are handicapped by the smog.
The attacks can be made in formation, increasing the attack force.
The game includes a small map representing different terrains and used to learn the rules. Each player has 5 infantry units, 1 light infantry, 2 cavalry at 1 artillery.