MAGIC DUELS FOR WORLD POWER
At the beginning only the knights ruled over the world of Zargo. In the course of centuries, thanks to their strength, they built castles all over the four continentes and, with the help of the Wizards, possessors of the art of Visions and Knowledge, they subjugated all the humans. but later on, coming from distant and strange worlds, new peoples arrived: they had different and tremendous powers, and little by little they snatched from the Knights' hands not only the lands to exploit and to build their towns on, but also lots of humans transformed in their image. In this way, what is known in Zargo's annuals as the "Lords' War" broke out. in the course of one year, with formed and suddenly broken alliances, thanks to extraordinary forces and powers, incredible battles spread all over the planet - battles where victory meant power and glory and defeat meant death.
Zargo's Lords is the mythic wargame of International Team. It was a major impact at that time. Many beginners (included me) discovered the wargame with this simple game.
This game gave me the idea to to do this site: in 2003, I tried without success to find a detailed inventory of the counters to rebuild an incomplete game. It also take me a longer time to have a scan of the unpunched counters (thank you Pedro !).

This is a very unusual game, and probably the best fantastic wargame ever published. It is very simple to learn. It can also be played by 4 players and this is one of the major interest of this game.

There are of course several flaws including some imbalance (monks and dragons are very strong) but if you have the opportunity to play this game with 3 other people, do it.

This game had a lot of success and was followed by an extension : Zargo's Lords 2. The people name was also reused in the game Zargos from Eurogames. Zargos is not exactly a wargame, it's mainly a territory conquest game (enhanced risk) .
OPENING THE BOX
The box includes the map (good quality, glossy), 247 counters (even if it is written 240 in the rulebook), 4 cards to chose its people randomly, 2 wheels for combat resolutions, the rules and 2 dice.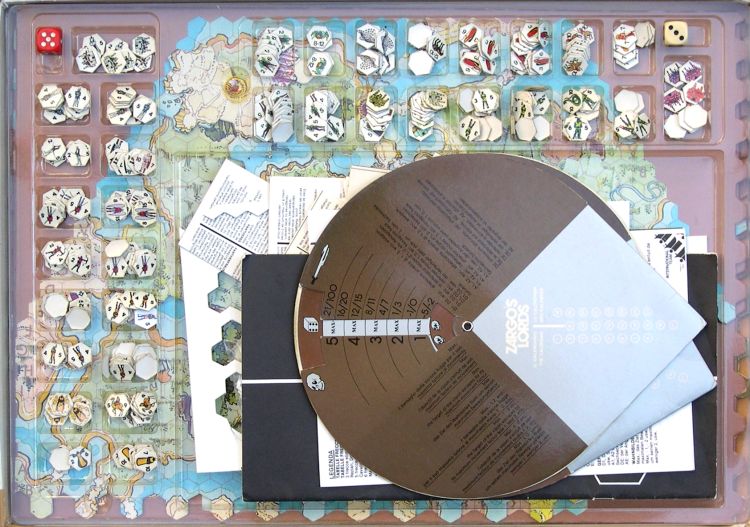 THE MAP
The map represents the 4 continents of Zargo's world (one per player). This is a planet and the edges are connected together.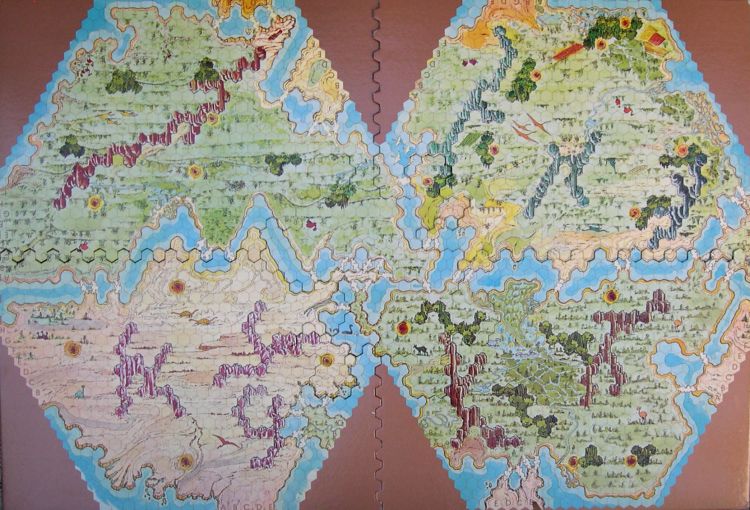 THE COUNTERS
Here is a scan of the unpunched counters, needed to rebuild the missing counters and to check that the game is complete.
Each people is different and each counter has its own characteristics. It's in fact a mixture of what is available in different kind of wargames: you will easily recognize artillery, paratroopers, aircrafts, tanks, cavalry, bowmen and of course infantry. So for instance the knights against the winged is like tanks against aircrafts.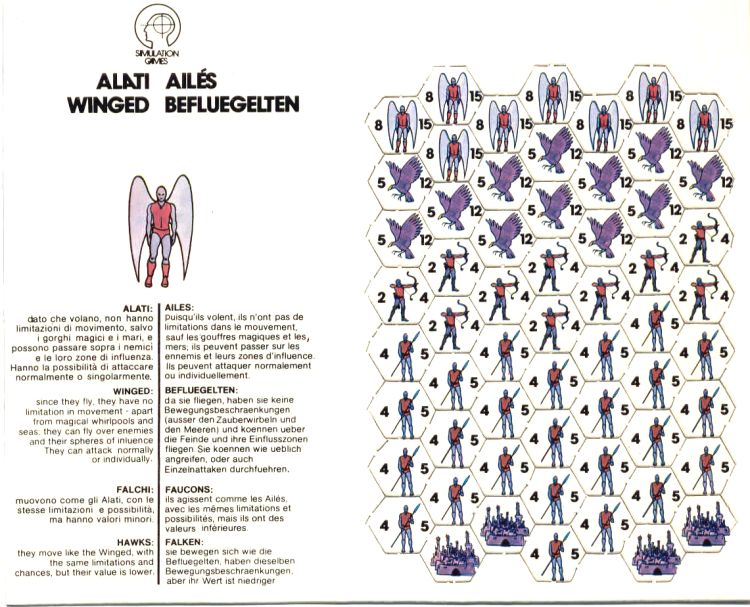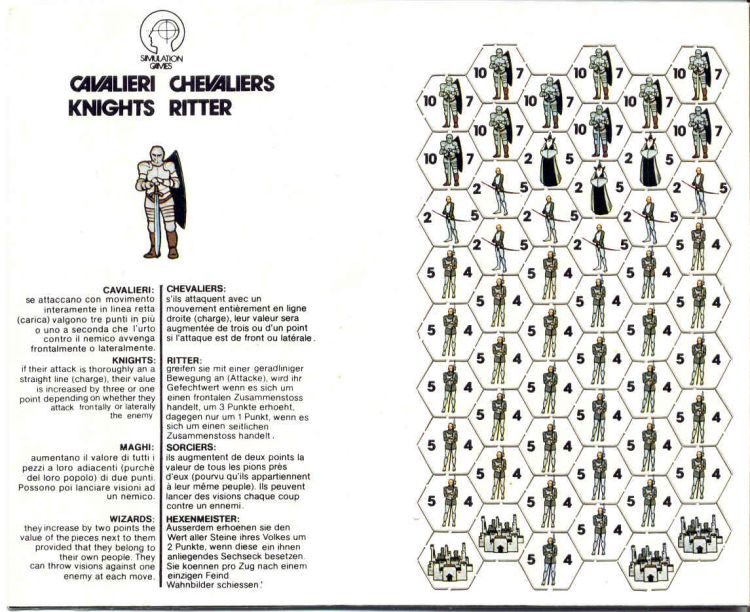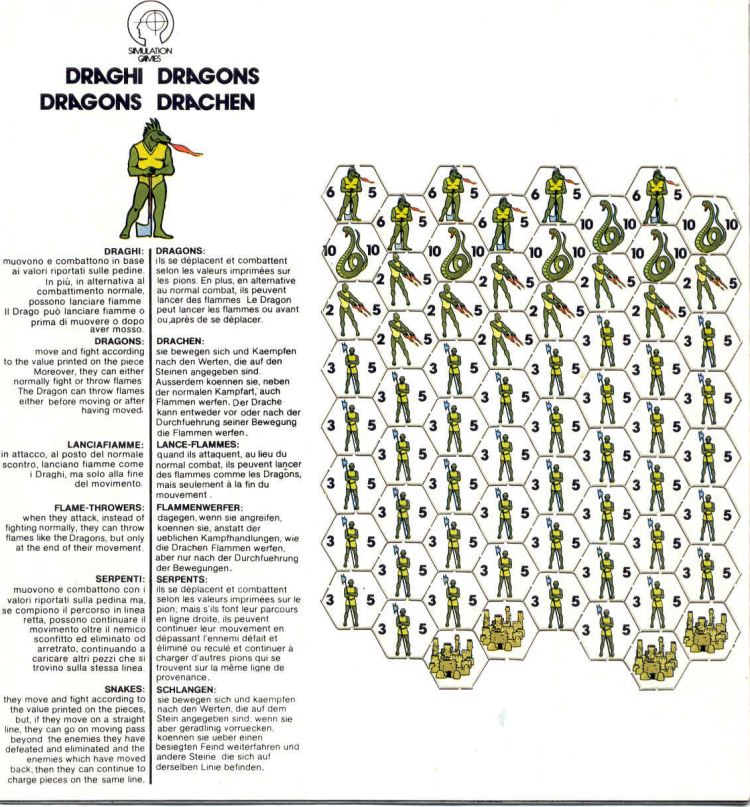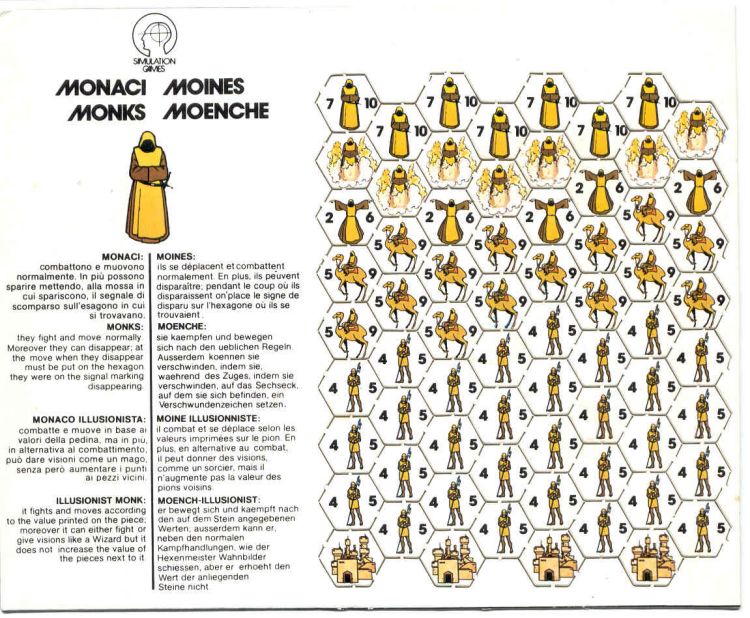 Click on the images to enlarge
THE RULES

The rules include 20 pages in 4 languages (Italian, English, German, French).

The object of the game is to conquer the highest number of towns in 25 turns.
The placement is free for the armies and the cities, inside its own continent. On each town are placed a maximum of 4 hidden counters. The other counters are visible.
The game concept is very simple:
- the player propose new possible alliances
- movements
- fire (arrows, flame or visions)
- combats